OECD Watch Newsletter April 2007
The latest news concerning the OECD-guidelines.
read more less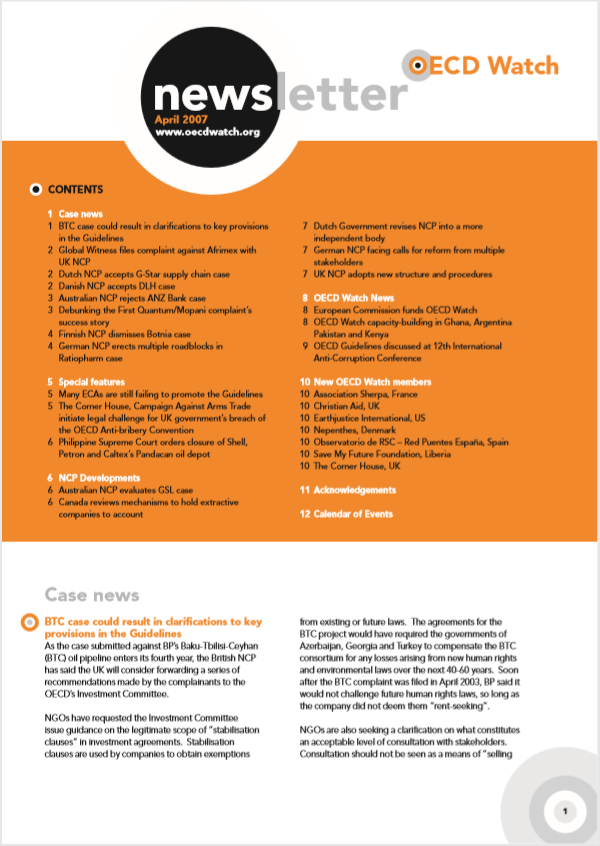 related content
Sign up
Stay up-to-date with the OECD Watch newsletter
Cases filed with National Contact Points for the OECD Guidelines left complainants largely empty-handed in 2021, OECD Watch concludes in its yearly state of remedy analysis. The report underscores the need for mandatory due diligence…
Understanding OECD Guidelines complaints through the lens of remedy
Download
The Organisation for Economic Cooperation and Development (OECD) published the accession roadmap for Brazil and five other countries today, establishing a blueprint for strong requirements to protect the environment, human rights defenders, and Indigenous peoples….
Español abajo Portugués abajo On 17 May 2022, OECD Watch and Latin American region members ProDESC (Mexico), Programa Laboral de Desarrollo (PLADES, Peru), Conectas Direitos Humanos (Brazil), with support of Swedwatch (Sweden) will hold…
Making the case for rigorous OECD accession terms for Brazil
Download
OECD Watch and partners launch research exposing environmental and human rights governance gaps in Brazil Keynote speakers & panelists discuss human and planetary impacts                       and…
Guide helps civil society understand and leverage the OECD accession process to demand reforms in candidate states
Download
Guide helps civil society understand and leverage the opaque and technical process to demand major domestic reforms in candidate states  On 25 January 2022, the Organisation for Economic Co-operation and Development (OECD) announced that it…